We create marketing results using
strategy, design and technology.
Like the internet, you can find just about any answer you're looking for at Texas Creative. That's because we live by these three rules: 
Lead with strategy.

Execution should never come before a strong strategic approach.

Elevate through design.

If the creative doesn't rise above the clutter, it can't connect.

Implement and iterate via deep technical expertise.

Writing millions of lines of code in-house means the learning, testing, and optimization never stops.
How do we do it?
Sure, there's smart work and a touch of magic involved, but it comes down to our values and our people. All that we stand for as a company is what we call for in our staff and from our clients. It's the foundation of how we do our best work together.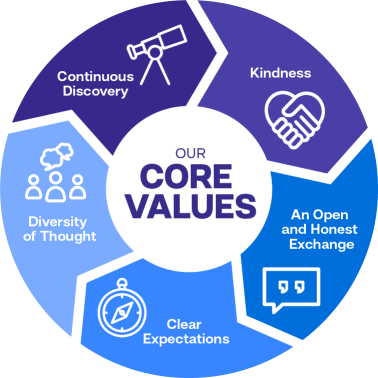 Our values
When you work with Texas Creative, you can expect us to live out these values at every interaction.
An open and honest exchange — It's how we arrive at the truth behind what drives us, and it's a key component to accountability and understanding.
Diversity of thought — Beyond a mindset of "there are no bad ideas," we're intent on seeking and welcoming insights and opinions from a wide range of stakeholders.
Kindness — There's a foundational level of respect and courtesy required to collaborate on problem solving, and anything less is a nonstarter.
Continuous discovery — It's our mind-wide-open awareness of solutions that have worked in the past not being a shoe-in for the best solution for the here and now, and always searching for what's next.
Clear expectations — We're always evaluating, always level-setting, and always looking for clear ways to measure success with goals and milestones.
Our people
Before anyone joins our team, we evaluate them based on 3 simple categories:
1. Can they be students for life?
2. Are they creative thinkers and problem solvers?
3. Do they have a passion and energy that fits within a team mentality?