5 Years With the Bullet Journal: From College to the Workplace
As an account coordinator, the most important part of my job is organization. Using a bullet journal and the "bullet journal method" helped me through college and turned me into the organization superstar I am today. I'd like to use this blog post to share why I think it is so useful and how my use of it has changed over time. 
My bullet journals date back to 2017, and I keep my collection of 4 journals on a shelf in my apartment, available for me to read whenever I want. I don't remember why I started, but I know I was drawn to the beautiful spreads on Pinterest and the promise of a perfectly organized life. I also love sketching and doodling, so I knew I could pull off some cool designs.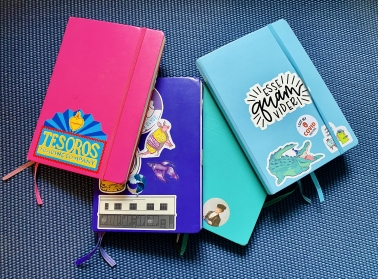 The Bullet Journal Method was created by Ryder Carroll and is a "Mindfulness practice disguised as a productivity system." It has completely evolved since then, branching out into a variety of methods/aesthetics. Definitely give Carroll's book The Bullet Journal Method a read. It's an interesting book about organization and project management that goes beyond just explaining his method (and believe it or not, this non-fiction productivity book made me cry??).
It's fun to look back on where I was and what I was doing this time a few years ago - Let's look at July: I have a record of my 2017 and 2018 summer internships, my 2019 summer studying abroad in Madrid, and my 2020 painting adventures/job hunting. While plain-old-journaling is great (and I do that too), I find that I get caught up in writing about my ~feelings~, or I'll just focus on one part of my day. I've discovered that I get a lot of value from reflecting on my daily tasks and projects at different times in the past, and that's why I think bullet journaling is so great!
Confession: I don't actually use a bullet journal/the exact method for my job. This is because the quantity of mini-tasks I usually do in a day is much greater than the 4-6 tasks I usually have in a bullet journal. (In my four months at Texas Creative I've filled two notebooks to the brim!) While I don't use the same method for personal organization, many aspects have rubbed off on my workflow. 
Symbols/Migrating Tasks
One of the first things you'll be introduced to with the bullet journal method is the practice of using a list of symbols used to communicate a characteristic about a task (the "key"). In my work notebook, I utilize boxes for all my to-dos, and I often use the arrow symbol to migrate tasks to the next day.
The DIY Factor
I'm currently using a sketchbook as my notebook and I am loving it! I enjoy drawing the lines for my organizational layout each day, and I find that this ownership over my workspace helps me focus. I have one very long task list (again, very different from my 4-6 tasks in my bullet journal), a column for my hours, and on the backside, I have my notes. 
In Progress - Complete 
I use a highlighter to indicate which tasks are in progress, and when they're done I go over them with a dark marker. In the traditional system, many will indicate "in progress" with a half-filled box. Adding in color is useful for me and is a great reminder of what's actually on my plate. 
Weekly View
At the beginning of every week, I lay out a weekly view before my daily pages. This helps me visualize what I can expect to see this week, and delegate tasks more effectively.
Using this framework has really shown me the importance of using small visual cues and going a little bit out of your way to create an organizational system that works for you. If you're interested in getting started, I'll leave you with a list of the supplies I use in my own bullet journal.
My Favorite Tools for Bullet Journaling Are:
As someone with both an analytical and creative mind, bullet journaling has been a perfect way for me to structure my planning. When I don't use my bullet journal/my work method, I feel less grounded and a bit more spacey. While digital planning has helped me out a lot, and I definitely cross-reference everything with Google Calendar, there's just something special and concrete about using paper and a pen. How about you, are you more of a digital planner, a paper planner, or somewhere in between?