Obsessive Font Organization: how to tame your font library to make finding typefaces less of a nightmare.
Author:
Author:
There are fonts for just about every mood or message, and the right font can completely make your message. But, finding the right font isn't always so easy. The problem comes when you have thousands upon thousands of fonts, and your font library becomes an overwhelming black hole to search through. Up until a few years ago, I found myself using the same fonts over and over, and only using new ones I just happened to stumble upon or saw in a coworker's design. I found it very difficult to scroll through my Suitcase Fusion preview lineup and find a perfect font in the specific style I was looking for. 
So I recently set aside some time to see what I could do about it, using the powerful attribution tools within Suitcase Fusion.
Defining attributes.
In preparation, I gathered all my fonts and threw them in a folder called "uncategorized" and started the laborious task of sorting through the heap. Within Suitcase Fusion's attributes panel, there is a drop down where you can select "classifications", "foundries", "tags" and "styles".
Classifications are just that—generic classes you can sort your fonts into. You can use these to check off a specific type of font, but most unique fonts are difficult to classify within just one "class", so I only use these classifications for the standard labels of "serif" and "sans-serif".
Foundries can be beneficial, I am sure if you are one of those people that knows exactly what fonts were made by whom and tend to search that way when looking for a specific font—but I am not that person.
Tags are where I found the flexibility and customization that I was after. I will come back to this.
Styles are the standard labels placed on the different font weights. Lots of fonts will already come with some of these checked, and I used those existing labels but didn't really pursue labeling fonts in here.
Tags galore.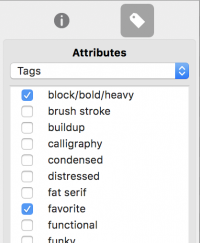 You can add your own keywords here, and be as specific or broad as your heart desires, and then select individual fonts to tag with the different keywords. I don't even remember if there were any tags already listed here when I first started this experiment, but I have ended up with over 30 at this point in time. The reason I preferred tags as opposed to any of the other attributes was because within the tags attribute, you could select more than one! 
For instance, I tagged the font "Mightype Slab Serif" (used here in my design for the Hops Grill & Brewery menu) as wide, slab serif, organic-hand drawn and favorite: 



I tagged the font "Matiz" (used here in the kids areas of the Take Care of Texas site I designed) as a block/bold/heavy and organic/hand-drawn:



I tagged the font "Hazelnut" (used here in the Luncheon invitation for The Children's Bereavement Center) as block/bold/heavy, brush stroke, script - cursive and script - handwriting: 



I have a whole host of tags from the broad ones like wide, thing, symbols and block/bold/heavy to very specific ones like retro, typewriter, buildup (fonts that come with shadows, outlines, etc that allow for a building up of the typeface) and distressed— and I sometimes have to add new ones! 
After I tagged all the different attributes of the font I wanted, I removed it from the folder I was using to store all my "uncategorized" fonts, and thus it lived loose within my library ready to be found in a smart set. (Consequently, whenever I install new fonts, I install them straight into my "uncategorized" folder that I get the joy of tagging within whenever I have the time.)
Enter smart searches.
Suitcase allows you to set up individual smart searches that look like folders but are filled dynamically based on the criteria you set. For instance, I have one set up for "bold/heavy/block" that looks for fonts I've tagged for bold and also looks for the Black and Bold style classifications that are sometimes checked with different weights under the Attributes > Styles panel. I also have a smart search set up for handwriting fonts, one for distressed fonts, ornamental fonts, calligraphy fonts, and niche fonts (the term I use for fonts with one very specific use - MLB fonts, dollar bill fonts, road sign fonts), etc. I currently have 28 smart search folders, which allow me to sift through my many fonts in order to find that perfect typeface.
Final thoughts.
There very well may be an easier way to perform this task. If there is, I am all ears. It wouldn't be the first time that I have chosen the most superfluous and tedious method to accomplish something, and I'm sure my coworkers can attest to that. But at least I am now good at picking some unique fonts for unique uses! Right?
Disclaimer: I should add that I wrote this blog (and made these screenshots) before the release of Suitcase Fusion 8. The capability of selecting attributes for the fonts in your catalog along with using smart searches remains, but the windows look different.