Texas Creative's CEO Ashley Landers among Business Journal's 40 Under 40 list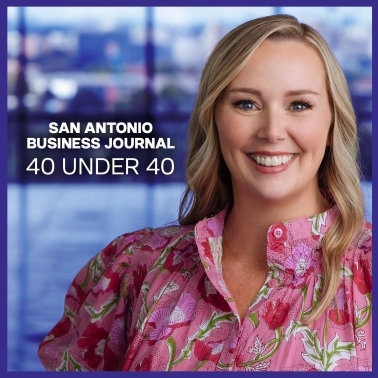 The San Antonio Business Journal has announced its Class of 2023 40 Under 40 honorees, unveiling its annual list of who's-who among San Antonio's elite young business leaders. Included in those selected is Ashley Landers, Texas Creative's Chief Executive Officer.
Nominees were submitted for this recognition by their mentors, coworkers, and peers in late 2022. Winners were selected by the Business Journal in partnership with a group of former 40 Under 40 honorees. The Class of 2023 spans a variety of industries and executive titles, and recognizes both for-profit and nonprofit organizations.
The common denominator among the 40 business people selected: Their commitment and dedication to making San Antonio an even better place to live, work, and play.
"I'm so appreciative of this recognition by the San Antonio Business Journal, and even more thankful to be nominated by my peers and colleagues," said Landers. "It's a tremendous honor to be among so many dynamic leaders in our city with inspiring stories, and it's an incredible feeling to know we all share a goal of improving this great city we call home "
The Business Journal will hold its annual 40 Under 40 Awards ceremony on March 23, 2023 at Morgan's Wonderland. The full list of honorees will appear in a March 24, 2023, special edition of the San Antonio Business Journal.