Client Focus:

Goodwill San Antonio
Fighting Poverty. Creating Opportunity.
Getting to the heart of why Goodwill San Antonio exists was just the start of our work for this nonprofit enterprise. Defining what Goodwill San Antonio does turned out to be the easy part: Fighting poverty and creating opportunity. Much harder was educating San Antonio and surrounding areas on how Goodwill San Antonio goes about getting its good work done. While retail stores are its most public-facing sources of income, Goodwill's complex business model also incorporates business services and a network of corporate partners to help fund its work to lift individuals past barriers and to open doors to living-wage employment in pursuit of breaking the cycle of poverty. Developing a skilled workforce through training, placement, and veterans resource centers is at the heart of that mission: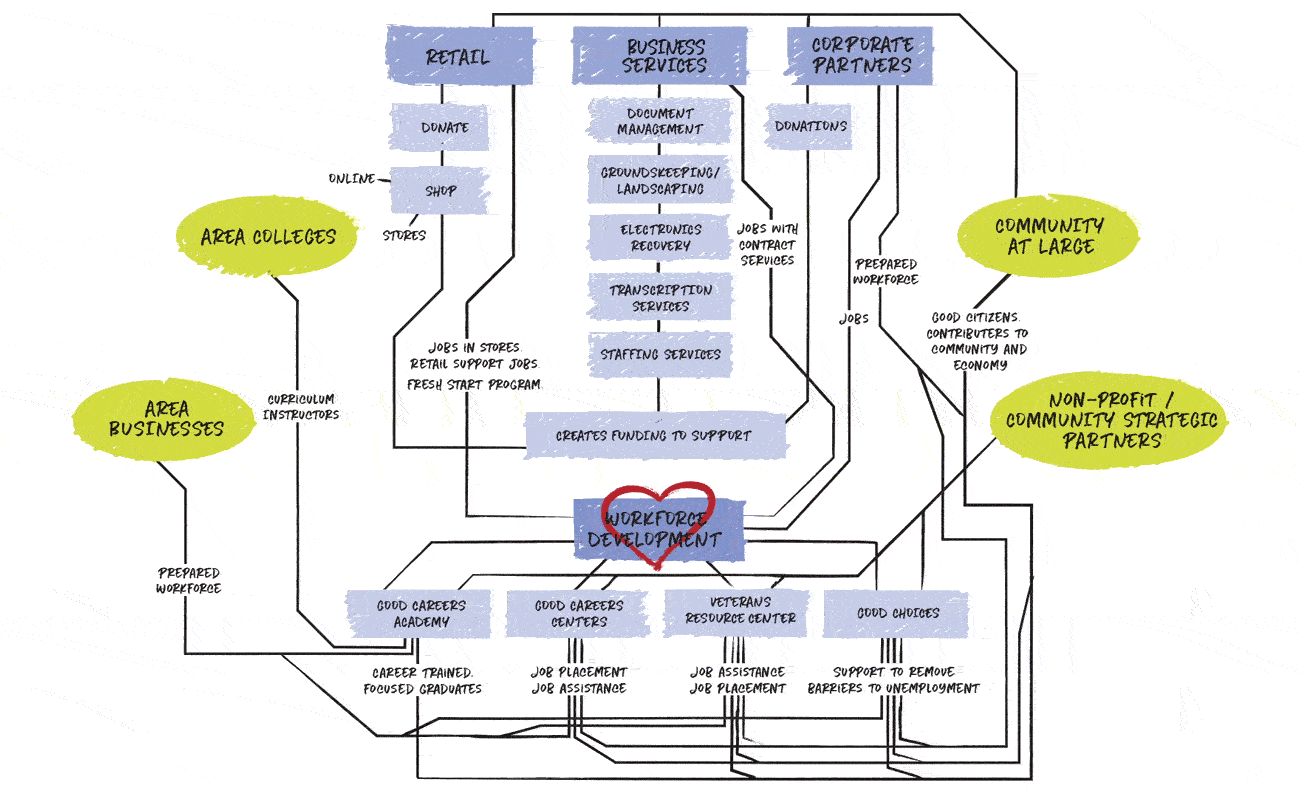 :30 spot
Goodwill San Antonio Mission
To plant a flag in the ground and own "fighting poverty" and "creating opportunity," we turned street photography featuring Goodwill San Antonio clients into a :30 spot, serving as a mantra for the agency.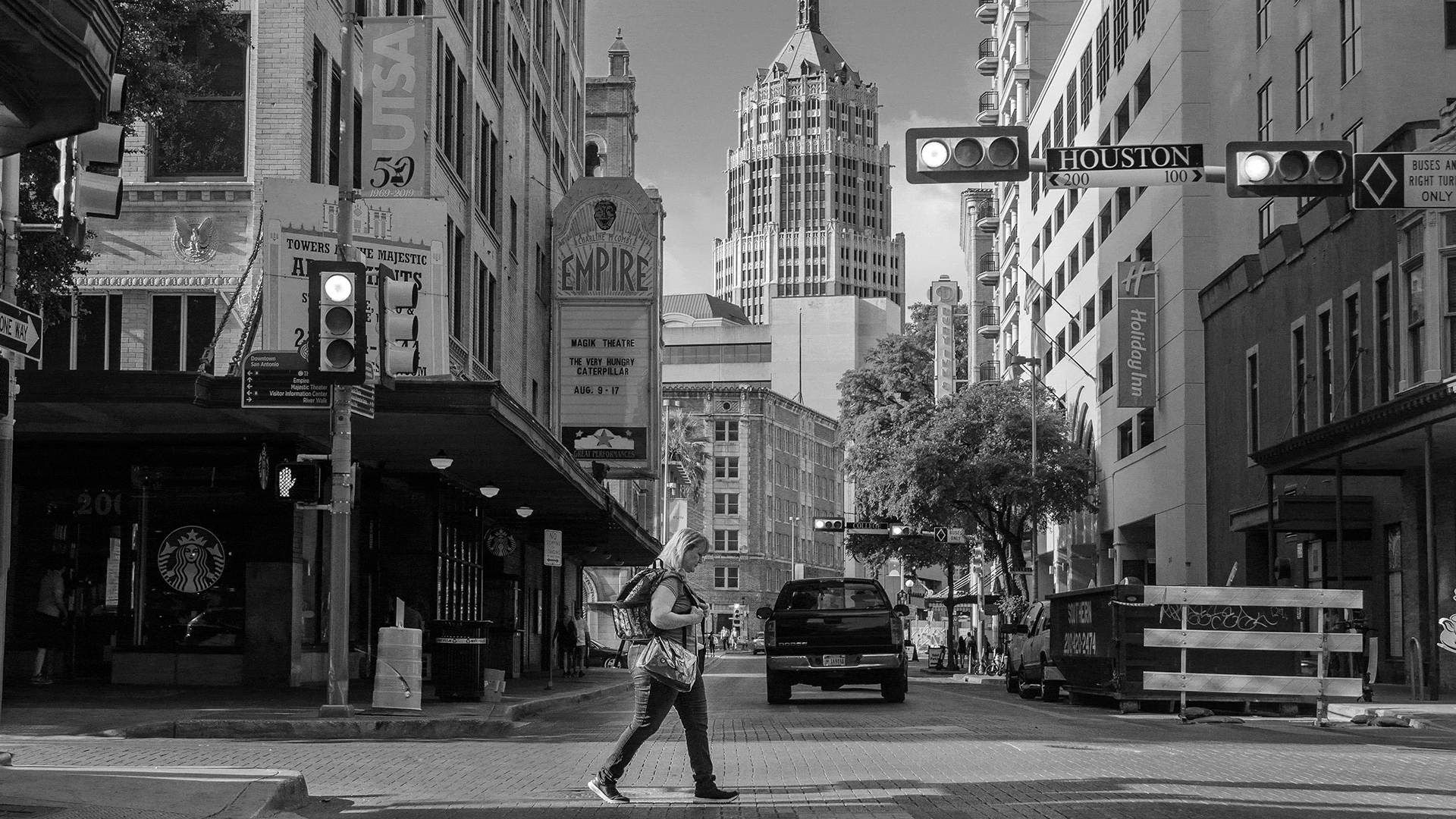 Goodwill San Antonio's website launched in early 2020, redesigned and developed from the ground up in Drupal 8. The new site focuses on Goodwill San Antonio's community impact with job placement, career training, and the agency's mission of fighting poverty and creating opportunity, with easy-to-find links to get education or training, to donate, to shop, and to find work. Visit the live site here.
An annual Impact Report recounts the difference Goodwill San Antonio has made in the communities it serves.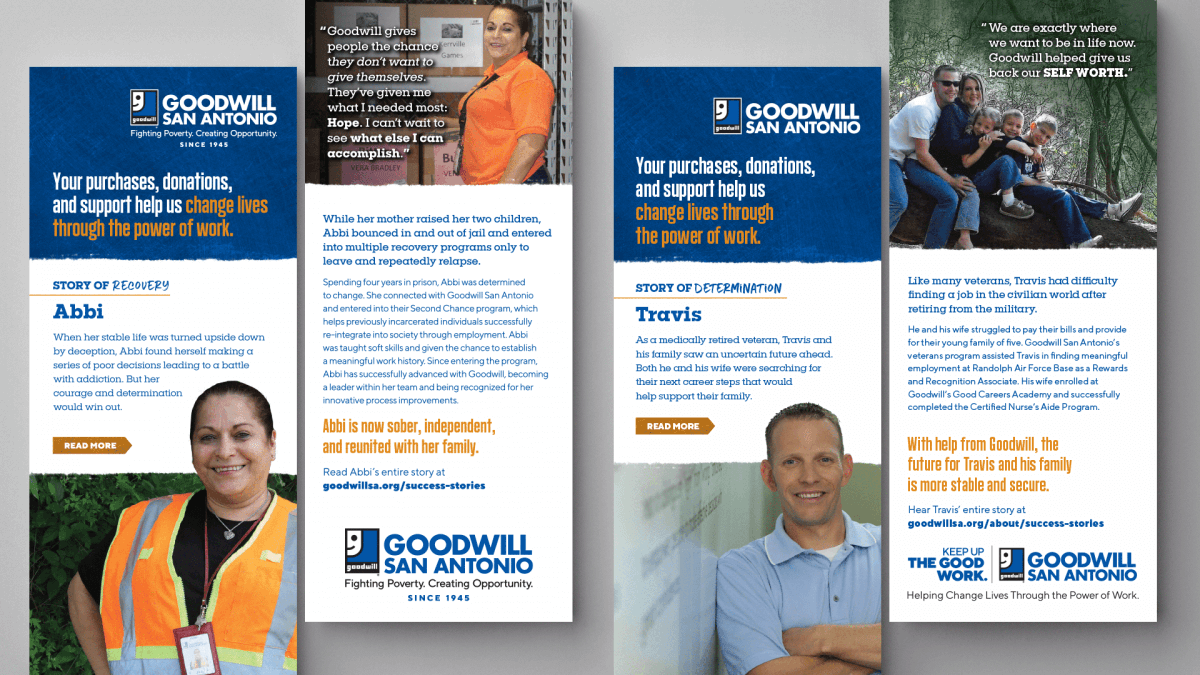 Success Story cards feature clients who have overcome seemingly insurmountable  barriers with the help of Goodwill San Antonio.
Success Story videos delve deeper into each client's unique life path, and how Goodwill San Antonio has helped change their lives for good:
Maria's Story
Goodwill San Antonio
Syretta's Story
Goodwill San Antonio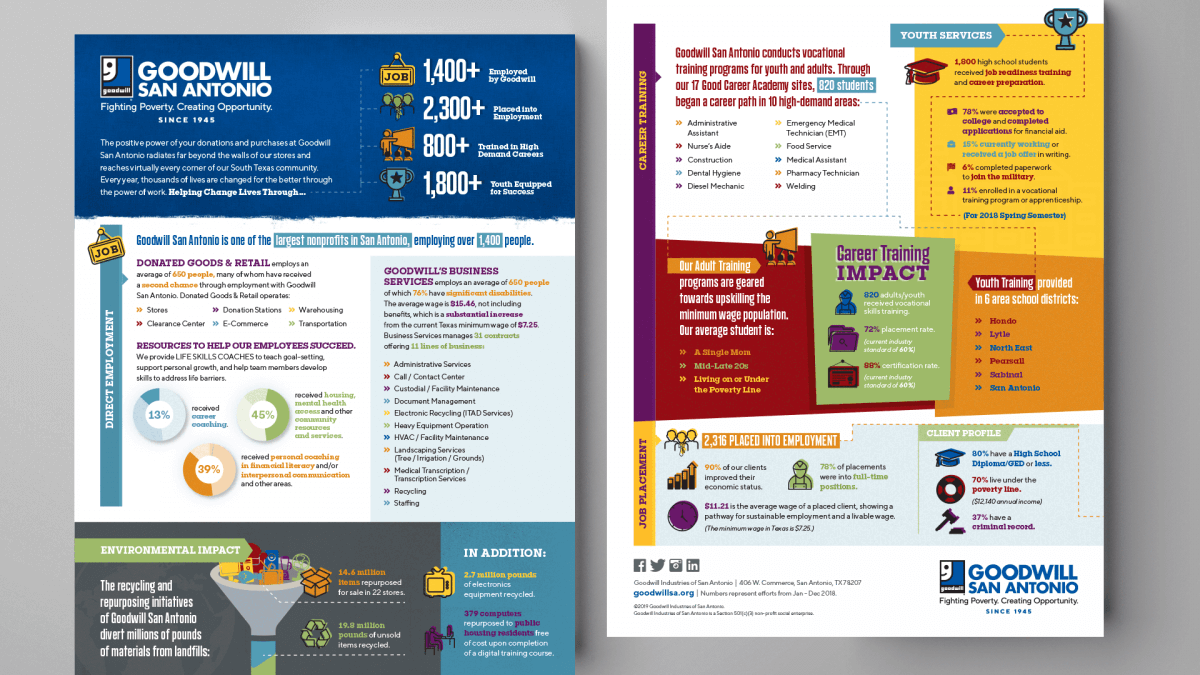 Goodwill's mission and impact are communicated on external "fact sheets" to provide tangible results of their impressive work in the community.
Goodwill San Antonio Business Services helps fund a large portion of the agency's efforts to change lives through the power of work. A new website for Goodwill San Antonio Business Services launched in late 2019 to generate leads for its call center, commercial landscaping, commercial tree services, document management services, electronic recycling, and IT asset disposition services. View the live site here.
Halloween at Goodwill: It's scary how much good they do.
October is a major sales month for Goodwill San Antonio. Customers flock to the stores, scouring the rows and rows of clothing and accessories, searching for unique, one-of-a kind items to create their perfect do-it-yourself Halloween costumes. Getting into the spirits of the season, Texas Creative conjured up a comprehensive promotional Halloween campaign to DIY for. Our bag of tricks included outdoor, organic social videos, radio, in-store signage, exterior store banners, targeted digital ads, even a Look Book with spooky and kooky DIY costume idea starters. The real treat is how many people are helped with job opportunities and career training, funded by purchases made during Halloween.
DIY Halloween
Goodwill Facebook Video
Texas Creative produced a Look Book featuring DIY costume ideas for the whole family.
DIY Halloween #2
Goodwill Facebook Video
In-store displays featured DIY costume messaging.
Pedestal signage in stores welcomed customers and provided mission messaging.
Animated, dynamic mobile banner ads provided DIY costume messaging and generated the distance to the nearest Goodwill store from where the ads were served.